We are changing

the approach to safety
Shaping a safety culture.
The scope of activity
ProSafety consultants work closely with customers focusing on understanding business needs and safety concerns. This allows the development of individual safety plans to meet the specific requirements of each Client. Our joint success results from a proactive approach throughout the entire cooperation process aimed at efficiently building a high level of safety. We offer a wide range of selected dedicated services to increase the level of safety in the company.
Cooperating with our clients, we participate in shaping and maintaining a safety culture aimed at ensuring employee safety and reducing the company's operating costs.
Shaping the safety culture in the organization is an integral part of company management and an element of building its image. A high safety culture is reflected in the sense of responsibility of each employee for safety matters, and this in turn directly translates into everyday work.
A high level of safety culture and safe and ergonomic workplaces have a direct impact on:
employee safety - fewer accidents,
high quality of manufactured products,
improving the efficiency of processes,
financial results of the company.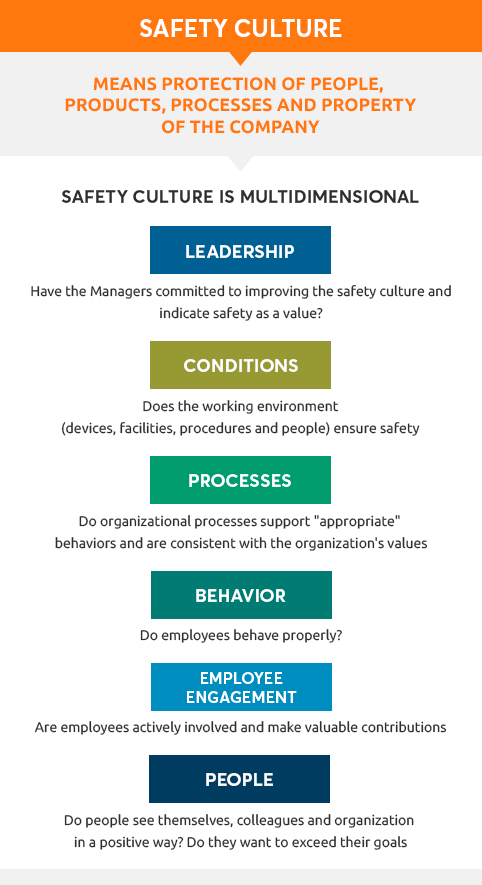 What is safety culture?
Safety culture is an expression of the employees' attitude to risk, threats and safety, and what values in this respect are considered to be significant. A high security culture is associated with a high value related to health and human life and the maintenance of the boundary between the necessary risk, which is an integral part of life and development, and ensuring safety and protection against threats.
Particular attention should be paid to three elements:
1. Physical work environment (tools, machines, organization of workplaces).
2. Employee behavior (compliance with health and safety regulations, information and cooperation, demonstrating safety concerns beyond obligations).
3. Internal attributes of employees (knowledge, skills, motivation).
Shaping the desired safety culture must be an ongoing process because real cultural change is difficult and takes time. One-time "actions" can be eye-catching, but they will produce apparent effects because they reach only to the most superficial layer of culture.
Assessment of the level of safety culture in the company

We suggest testing the level of safety culture by assessing knowledge, skills, beliefs and a system of values that determine the safe behavior of employees in the organization.

Using the tool developed by ProSafety, we will carry out:

assessment of the current level of safety culture,
verification of applicable standards,
preparation for a culture development program.

The result of the assessment will be highly specialized safety culture development programs.

Behavioral-Based Safety (BBS) audits

One of the main elements of a high safety culture is the change in employees' dangerous behavior through a long-term behavioral observation / auditing program.

The BBS (Behavioral-Based Safety) concept is based on mutual observation of employees and paying attention to potentially dangerous behavior of others. The key concept in this process is behavioral audit (conducted by employees, including line workers). Assuming that the problem is the hazardous behavior of employees, key questions relate to the facts associated with it.

Risky behavior is the Result, NOT the Cause.

Risky behavior is influenced by a number of factors such as: poor communication, lack of supervision, unclear procedures, inadequate training, time pressure, bad habits, lack of responsibility.

The BBS system aims to:

raising employees' commitment and awareness in the field of health and safety
changing employee behavior (eliminating risky behavior and other factors before they lead to an accident)
reducing the number of accidents, occupational diseases and near misses
identification of barriers in safe work
providing proposals for rapid improvement and solutions (behavior, problems, procedures)
using the knowledge and experience of the observed person for potential organizational and technical solutions.

Promoting safety and raising employee awareness

We implement employee involvement in raising the safety culture, among others, through:

improving visualization
implementation of a program for reporting hazards and near misses
organization of the "Safety week / day"
topics of the month and others.

We help in the organization of safe workplaces: new, existing and after organizational changes.

We offer:

risk assessment - the proposed method of hazard identification raises awareness of operators and managerial staff,
safety control – safety acceptance of the machines and workplaces and OHS inspections, implementation of the 6S system,
support in developing procedures for performing safe work and activities,
support in the preparation of training materials for employees,
supervision support by implementing tools such as: "Tool Box" discussions, lectures, analysis of threats before commencing operational activities,
support in the technical assessment of the workplace with proposals for corrective actions.
contact

our consultant
As a data administrator, ProSafety takes appropriate technical and organizational security measures to protect clients' personal data in accordance with Regulation (EU) 2016/679 from February 25, 2018. By contacting us, you agree to receive information and contact to the email address provided and telephone number.

+48 605 452 324

info@prosafety.com.pl